Fendi jeans. Apple AirPods. A Louis Vuitton handbag. You name it. You can buy it and pay for it in installments, usually over 6 weeks. The popularity of Buy-Now, Pay-Later (BNPL) financial services, a lower-interest alternative to credit cards, skyrocketed during the pandemic. Online shopping increased significantly during that time, and BNPL became a fast, convenient way to purchase, spreading out payments when the buyer either does not want to or is not able to pay in full with cash. A recent report from Insider Intelligence predicts that e-commerce transactions will surpass 20% of total U.S. retail by 2025, and more than one-third of these digital buyers will be using a BNPL service.
BNPL is a tempting buying option used mostly by avid debit card users and younger shoppers. Contrary to expectations, BNPL purchases typically are not big-ticket items. In fact, fashion and beauty products make up about 70% of pay-later transactions. Shoppers who use BNPL tend to buy more than those who don't.
The BNPL application is an online process completed at the time of purchase, with both advantages and disadvantages. The shopper does not have to supply much more information than their name, phone number and date of birth, and then is notified of approval on the spot. They also must supply a credit card or debit card that is charged, usually every two weeks, until the purchase is paid off—essentially delaying the cash outlay for the buyer typically for only 2 to 3 months. If payments fall behind, some BNPL services charge late fees, rather than interest. With many, late payments are reported to the credit bureaus, potentially damaging the shopper's credit score.
Offered as a voluntary benefit through an employer, membership association or government agency, Purchasing Power® presents an alternative payment plan compared to a typical BNPL business model. Employees are able to purchase and quickly receive products and services with no credit check and no up-front deposit, and pay back through payroll deduction typically over 12 months. By offering our employee purchase program in their voluntary benefit package, employers help their workforce achieve the financial flexibility to easily obtain products and services they need. In addition to making routine purchases possible, our program can be critical anytime there are unexpected expenses, such as a broken refrigerator or tires that need replacing.
There are a few other key differences to consider. As noted before, most BNPL service purchases are for lower cost items. Employees generally purchase bigger ticket items through Purchasing Power such as computers, electronics, furniture and major appliances. Employees are assigned fixed spending limits based on employee salary and tenure, determined from 20 years of serving employees and understanding their ability to pay. Employees know their spending limit up front, whereas with many BNPL services, the credit limit is not revealed until the time of checkout. This means there is no guaranteed approval, and the purchase may not be covered entirely. Further, a shopper could sign up for several BNPL services and spend beyond their budget.
Following are key reasons an employee may want to consider Purchasing Power versus one of several available BNPL services: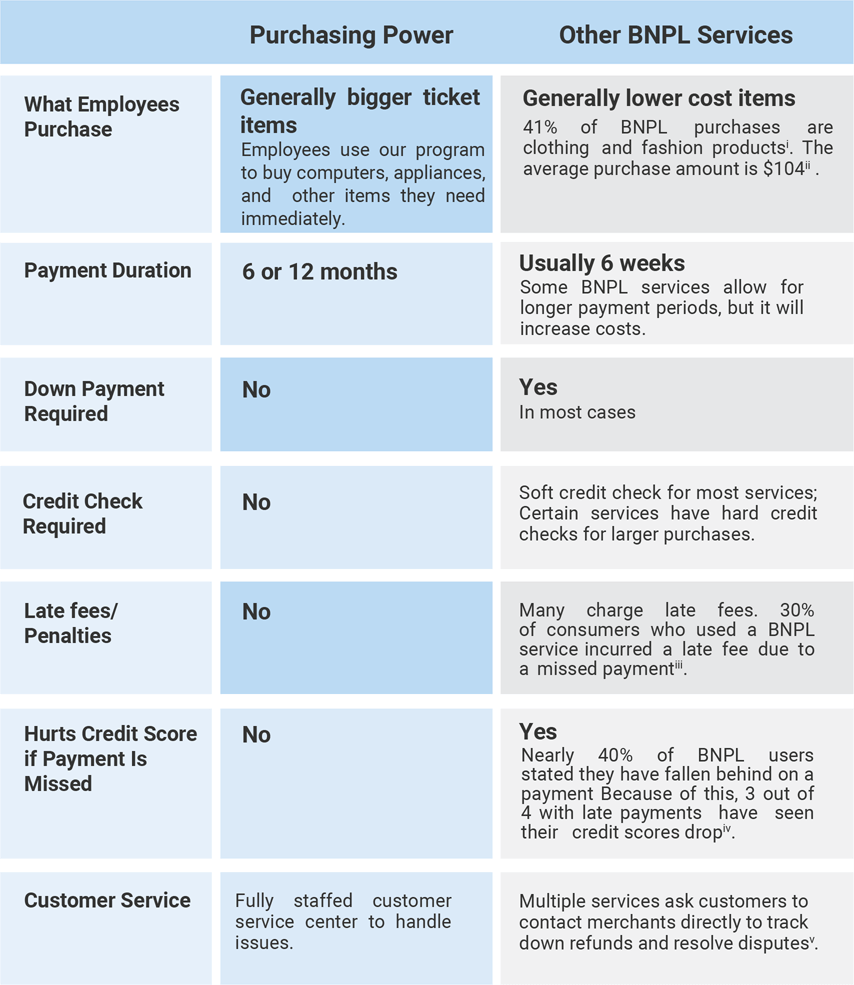 Installment payments have been a fixture in American commerce since the days of the general store. Buy Now, Pay Later in e-commerce has suddenly emerged as a form of installment payments that typically has value for consumers who have the cash or credit to defer their payments for a short time. Purchasing Power has been offering an effective alternative to more recent BNPL options for over 20 years. For many consumers, it represents a better solution, providing the ability to receive the products they need and pay over a longer time frame, easily and responsibly through payroll deduction.
Written by: Trey Loughran, Purchasing Power CEO
ii. https://www.fool.com/the-ascent/research/buy-now-pay-later-statistics/
iii. https://www.creditkarma.com/insights/i/buy-now-pay-later-missed-payments
iv. https://www.consumerreports.org/shopping-retail/hidden-risks-of-buy-now-pay-later-plans/
v. https://www.forbes.com/sites/ronshevlin/2020/11/22/the-24-billion-buy-now-pay-later-battle/?sh=29cff3052f53